In the first part of this series, I covered the modern patterns I picked up recently in anticipation of the post-preggo return of my waist. In part two: a look at my recent vintage stashing and destashing.
Although I've bought individual vintage patterns here and there on Etsy or eBay (like the one for my orange silk floral maternity dress), most of my collection are the result of lucky bids on poorly photographed and/or described eBay pattern lots. The ones with clear pictures and detailed descriptions usually sell for too high, but there's less competition on the fuzzy ones. Said lots tend to contain some patterns way out of my size or taste zone--but I can resell those or give them away (and I will, I swear!)
Stashing!
First up--the pattern at the top of this post, a lovely scoop-neck dress with circle skirt from 1948. Here's a less frighteningly faceless view from the Vintage Pattern Wiki: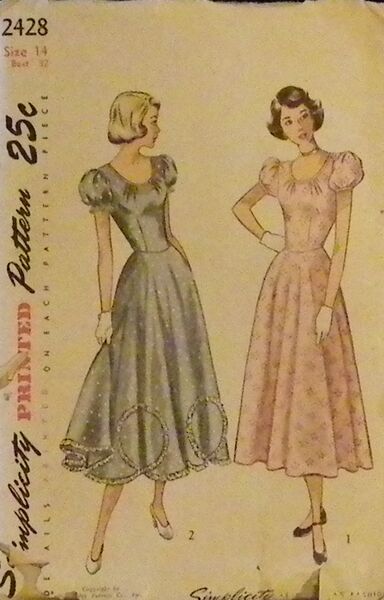 I'd definitely go knee-length in a lightweight cotton, and I'm not sure I'd do the swirly lace treatment. But I don't know that I'll get to it anytime soon, as it's hardly nursing-friendly.
From 1945, a crisp, practical shirtwaist day dress with nice big pockets and a center front pleat. I'm loving the striped cap-sleeve look. The handwritten penciled note reads "very good skirt pattern for me." Me too!
The below ruffled sweetheart neckline housedress is actually a "maternity dress or pinafore", and is super adjustable thanks to the back tie belt. It reminds me of Gertie's recent ode to housedresses (and this 40s housedress in particular). I'd lower the neckline and go for the tinier ruffle treatment. And I have no idea why her eyes are closed.
This 1941 button-front makes me wish I was a hat and gloves girl. It's begging to be made up in polka-dot rayon... "The button fronts are top-stitched to the side fronts for a smartly tailored effect." For sure!
Oh goodness I love a shirtwaist--and with a gathered bust over a fitted midriff, too!
I mentioned this one in a recent post, but I'll show it off again because I love it SO much (and thanks to Sarah, I've learned it's officially from 1940). In case you hadn't noticed, the "vertical seaming in the front of the frock lends slenderizing flattery to this design."
And before we move on from one-piece dresses--I'm not usually a 60s gal, but this one is my size with a wonderful tie-neck detail. Both the pencil and full skirts are fabulous, and I love the layered polka-dot view:
In the two-piece department... This jacket/skirt combo is undated but the (unprinted) pattern pieces are still in factory folds--1940s, right? I love the shaping so much I could be inspired to bend my "no high necklines" rule...
Here's a "Simple to Make" two-piece dress from 1943, with more hand-written notes ("brown + white check"--no thanks!). I wonder if I could make this work for the office?
It'll be a while before Cartoonist Baby is old enough, but this 1954 sundress and bolero mail-order is worth holding onto:
I'm uncertain about this Hollywood men's shirt pattern -- it's in Masheka's collar size, but I find the men in this illustration to be strangely terrrifying:
So that's some of what's staying around. Since I have a 36" high bust, I'll have to grade some of these a few sizes (I hear that even if you lose all your pregnancy weight it takes up to 9 months for your ribcage and hips to realign). But that's a skill I've been meaning to learn anyway, and I'll have some help from the latest addition to my sewing library, Grading Techniques for Fashion Design. The book explains manual pattern grading in detail, and has incredibly detailed, illustrated step-by-step directions for accurately grading dozens of styles of bodices, skirts, sleeves, dresses, pants, shirts, etc. by one or many sizes; the 1974 edition can be had used for about $10.
As for what's (probably) going...
Destashing:
It's super cute and in my size, but it's just too big and blousy up top for my figure:
Similarly, double-breasted + full-busted can = total disaster (with the exception of trenchcoats). This fabulous 1946 suit probably deserves a better home:
And once again, I just need to admit to myself that square-dancing is not in my future:
By the way, speaking of the Vintage Sewing Patterns Wiki--I do try, whenever I acquire a vintage pattern--whether or not I plan to keep it--to check to see if it's in the Wiki. And if not, I add it--you can see my contributions here.