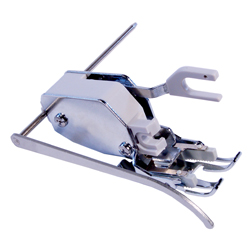 Yep, still here, still pregnant (38.5 weeks!). Still not sewing, but looking forward to getting back to sewing at some point.
As I mentioned, it was my 30th birthday last week, and I got a little birthday money. I put most of it in the Cartoonist Baby fund (she'll be my REAL present!), but I was considering using some to buy a walking foot for my Viking Platinum 730.
I hear walking feet (aka dual feed feet) are ideal for sewing multiple layers, knits, and tricky lingerie fabrics. But they're so much pricier than other types of Viking feet I've hesitated to get one. And so I have a question: do you have a walking foot for your machine, and if so, how often do you use it? Was it worth the cost?
I realize I have quite the presser foot collection--I've got an invisible zipper foot, an edge-stitching foot, a top-stitching foot, a 1/4 seam guide foot, a flat-felling foot (not that I've ever done such a thing, but I mean to, really), a narrow-hem foot... and more. For my serger I have a piping foot and an elastic guide foot (though the latter hasn't worked so well as just holding the elastic with my hands). So what do you say? Should a walking foot be among them?
Alternatively I was thinking of getting yet another fabulous sewing or vintage style reference book for my over-stuffed library (such as Blueprints of Fashion: Home Sewing Patterns of the 1940s or Professional Sewing Techniques for Designers). But not fabric. I have WAAAAAAAAAAY too much fabric.
Or I could buying a cute nursing dress or some flats--but Cartoonist Husband finds it weird that I would consider clothing or shoes a fun gift (he prefers books and DVDs). Not that he didn't think buying myself a sewing machine accessory was odd, too...
P.S. Update from 2013: I DID get a walking foot for my Viking and it is awesome for stripe matching and sewing knits, even though pricey. If you're interested, contact you sewing machine dealer (that's what I did) OR you can search to see if you can find your walking foot here—I see basic feet for Singers and Brothers, etc.