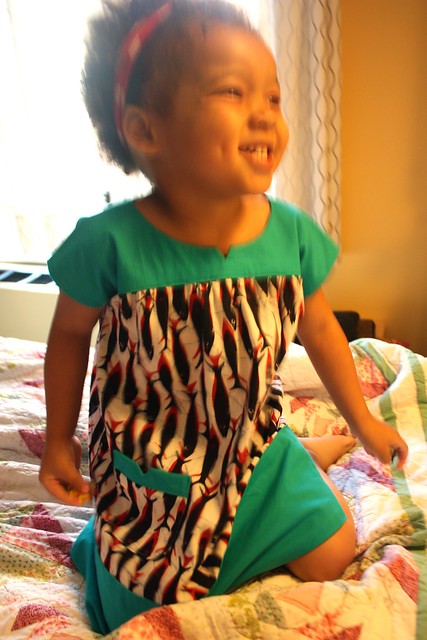 This little dress has been swimming around my head since back when I was pregnant and bought this "Super Deluxe Veritable Wax Print" fish fabric for $1.99/yard at Sew-Fisticated Discount Fabrics.
So I'm feeling quite pleased with myself for finally completing it before my daughter outgrew the largest size in the pattern envelope (or, say, went off to college!). I was nearly derailed by a few disasters—crappy yoke fabric that shredded like spiderwebs, a loop turner that refused to turn loops...
But I triumphed in the end and Ms. Z squealed in excitement this morning when I showed her her brand-new "Swim Away!" dress.
It'd been a long time since I made her anything, and I had forgotten how soothing sewing simple relaxed-fit children's cotton clothes can be. Even when the construction techniques are complex, there's no fitting or alterations to make me cry and swear. I just make everything a bit too big, and know she'll eventually grow into it. Only it's not really all that big. Oops!
The pattern: Oliver + S Ice Cream dress, View A. (Though around here we're calling it the "Coconut Cream" dress — my daughter has life-threatening dairy allergies, so she was very alarmed when she saw the little girl on the envelope holding a cone of "mean allergies" in her hand):
Pattern Description:
Child's color-blocked dress with notched yoke, cut-on sleeves, color-blocked patch pockets and double hem panel.
Pattern Sizing: I bought the 6M-4T envelope, and made up a size 4T (tracing the pieces with my beloved Bosal paper in case I need the smaller sizes again).
My daughter is a big girl—just turned three but already 37.5" tall and 37 pounds in weight... so the 4T fits just right with not very much room to grow, alas! So I'll just have to make her wear it every day this summer. Right?
Fabric & notions Another stash win!
Super Deluxe Veritable Wax Print" fish-patterned cotton, $1.99/yard at Sew-Fisticated Discount Fabrics. Really soft and gauzy, not stiff at all. Used a bit less than a yard's worth.
Scraps of turquoise Kona cotton leftover from a quilting project. The pattern calls for a whole yard but with very careful single-layer cutting I was able to squeeze it out of just half a yard with miniscule scraps remaining.
Extra button from a sweater I donated to charity long ago.
So, a free dress, right?
Pattern alterations or any design changes you made: None. This was a pure, relaxing "sew exactly as directed" project.
Instructions and Construction: Are great. Oliver + S patterns always make me feel so smart, like I'm taking a mini sewing class. I don't find them easy or quick to sew, but they have such fun details and atypical construction, they are a joy to put together. And I do feel like I've learned skills here that could easily apply to a fitted dress for myself!
What I love about the pattern: Um, everything. It's such a great style for a little girl on the go.
The colorblocking.
The adorable notched patch pockets (perfect for rocks or toy fish, which is what she put in them this morning).
The little bias button loop closure.
The cut-on sleeves.
Successes:
First bias button loop.
Lots of nice even edge-stitching (thanks, edge-stitching foot!)
Near disasters:
Bias button loop agony. So I have a loop turner and have made spaghetti straps and such with it before, but this thick Kona cotton did NOT want to turn inside out. I literally spent 40 minutes struggling with the loop turner before I finally got it to cooperate. Which is crappy when I generally only have 30 minutes a day to actually sew.
Fabric of spiderwebs fail: I originally intended to use a bright red cotton poplin remnant I bought at Mood for the solid color contrast. Except when I went to even out the ends, my FINGERS WENT RIGHT THROUGH IT. Like it was made of butter. Or spiderwebs. Or spiderweb butter. WTF?!:

Toddler non-cooperation: She wanted to run around in the dress and jump and lie on couches, but I could not get her to just look straight at me and smile. Could NOT. Oh well!
Wear for: Running around all summer and looking freaking adorable. Also for relaxing on polka-dot couches:
P.S. "Swim Away" is of course a Finding Nemo reference... I never really liked or appreciated that movie until I had a kid with severe chronic health issues, but now I am kind of obsessed with it!
P.P.S. I would like to take credit for the polka-dot couch, but I just bought the fabric. My amazing mom actually covered my old couch for me. In like, an hour. Thanks Mom!